Want to set the perfect table? You can't without a set of the VGAH' signature Coaster. These are sold in sets of 4. Because they are handmade, no two are ever going to be a like. They may bear the same colour scheme, but because we use a fluid design technique, each will have its own unique features. Therefore, you may place orders for sets, but each set will be slightly different in design but similar in colour. That is what makes them eclectic, different and artistic.
For your enjoyment, we offer two materials for coasters on this site. You may click on the links below for our vast wooden selection, or those made from epoxy resin.
Wooden Coasters – Each finish coaster begins as a blank, unfinished piece of wood and finished off with an epoxy resin coating to seal the colour and design. The result is nothing short of magical. Enjoy
Resin Coasters – A slightly different and more involved technique.  Working with epoxy resin can be tricky and requires concentration and skills. Resin moulds are used to create the desired shapes. The rest is history!! These are long lasting and can withstand high heat. These are a must have for quality gift giving.  Enjoy
Luxury has never looked so good. VGAH introduces the 100% Silk Scarf designed by artist Sophia. Each scarf features one of her uniquely creative fluid art designs. Scarves are 90cm by 90cm. Scarves are $75. Each
Adding a touch of Beauty And Art to your kitchen is absolutely a Must have. Tea Towels are designed by Artist, Sophia and are 100% of the finest cotton fabric of our lives. You may even want to hang these original art pieces on your wall – who knows.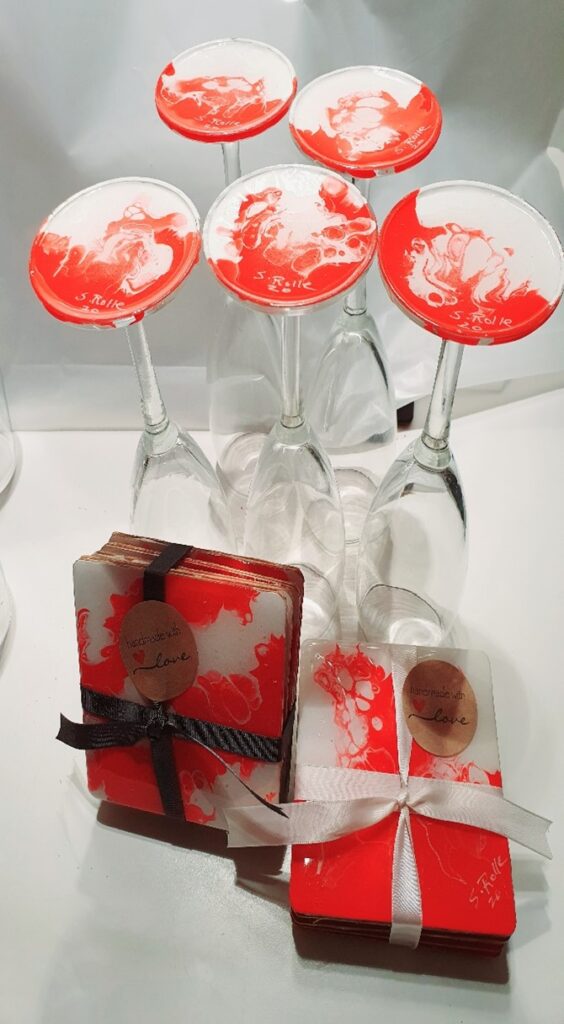 Customized Wine Glasses, Wine Rack and Wine Glass and Coaster Sets
Wine Glasses – VGAH is proud to present its customized wine glasses. Looking to impress your loved one, then order a set of these one-of-a-kind, fluid art stemware. We simply do not have the room to stockpile these, so they are strictly made to order. Click on the link to see some of our products: Wine not included as part of the package.
Single Wine Glass or Tumbler: $20 each
4 Wine Glasses are sold @ $80 per set.
4 Wine Glasses plus a set of matching coasters (4) is set at $150.
1 Epoxy Resin Wine Rack, 2 matching Fluid Wine Glasses, 2 matching Epoxy Resin Coasters is $125.
Please contact us for further customization and orders.
All Candle Holders are made from 100% epoxy resin. These too can be customized according to your specific colour. Candle not included. 
Decorative Light Switches
Decorative Light Switches – How about making that room "pop" when you flip the switch? We have a small inventory on hand in several colors, but once again, we can customize to your personal need and colours. Each switch is hand poured using a fluid art design and sealed with epoxy resin. 
Placemats, Serviettes and Napkin Holders
These beautiful works of art are hand crafted to your style and taste. Placemats are made of wood and adorned with a fluid art design and sealed with resin. Napkin holders are hand painted and sealed with resin. Servettes are made of Bahamian Batik material and finished off with embroidery around the edges. Placemats, napkins, and holders are sold in sets of four or can be customized to suit your dining needs. Please contact the Gallery for more details and custom orders.